Profile
---
John McInnis Auctioneers is a professional estate appraiser and auctioneer with the largest full-service auction house on Boston's North Shore. The galleries, located in historic Amesbury, Massachusetts, are licensed, bonded, and insured for the sale of antiques, fine art, and real estate. Our professional services in estate appraisal, consulting, marketing, and liquidation are carried-out with confidentiality and courtesy. Our clients include estate trust officers, banks, realtors, and private collectors.


Located in the heart of historic Amesbury, Massachusetts, John McInnis chose a 1930's brick building for his galleries. This building, originally a grocery store in a town noted for its carriage-trade, provides over 12,000 square feet of display and storage space, with a state-of-the-art fire and security system and ample private parking. A staff of experts, knowledgeable in 18th, 19th and 20th century fine and decorative art and accessories is available to assist clients in the appraisal and auction process. Our expertise includes liquidation services of both personal and commercial property for life transitions or downsizing.
[go to top]

Personal
---
Proprietor John McInnis loves the thrill of helping clients discover antique treasures. Raised in a family of antique dealers, John was licensed as an auctioneer in 1978 and has over 25 years experience in the auction and antiques industry.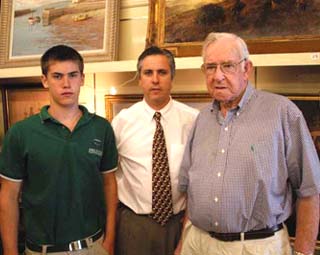 John's sister Maureen runs an auction house in Maine. His brother David, a carpet and textile expert, runs a carpet gallery dealing in specialty antique and collector quality oriental carpets. Another sister, Barbara, is a dealer of antique silver, porcelain, and decorative arts in Florida. Another brother, Paul, owns an auction company specializing in real estate and antiques in New Hampshire. John's father resides in Florida. At 87, he is still assisting in John's business.

John McInnis is licensed as an auctioneer in four states: Massachusetts, Maine, New Hampshire, and Florida. A graduate of the Certified Auctioneers Institute (CAI) and Indiana University at Bloomington, John lives in Hampton Falls, New Hampshire with his wife and three children. The family enjoys winter sports and vacationing together, and all work the auctions on auction day.
[go to top]

References
---
(coming soon)
[go to top]

Testimonials
---
(coming soon)
[go to top]